PGA and European Tour Winners Secrets
PGA and European Tour Winners Secrets
Having just watched an incredible victory by Ted Potter Jnr at Pebble Beach I began to reflect on how often golfers who have performed poorly for a long time often spring out of the pack to win. I wonder if there is anything for us to learn from them. What mental game tips can we pick out of these winners?
Here is my opinion. Feel free to make up your own minds. I must stress I do not personally know any of these guys. I just love an underdog proving that they have all they need to win.
Ted Potter Jnr, or The Wizard as he is known,  once missed 24 straight cuts. In 22 events on the Web.com Tour in 2017, Potter earned a total of $207,368. He'll take home a little over $1.3 million alone by winning  the 2018 Pebble Beach Pro-Am.
There was no indication that he was going to play so well and win although he has won at every level he has played at. His swing was not perfect neither was his physique. By all accounts he is a shy man. He said that he was simply focusing on one shot at a time down the stretch. This may be an old cliché, but when your mind is dreaming up all kinds of scenarios it's a great skill to have. To be able to direct your mind's attention where you want it. His demeanor all week seemed very relaxed and controlled. Even though he wasn't a big name player he stayed focused on his job and gave each shot his total attention.
That's the golf tip I learned from the Wizard. Keep your focus and trust yourself.  no matter what the circumstances.
Chris Paisley, playing on the European Tour won the 2018 South African Open back in January. It was 31-year-old Paisley's first victory since the English Challenge on the Challenger Tour back in 2012. Paisley's wife Keri was on the bag for the week and he was quick to praise her after his win. "My regular caddie is getting some stick but I just can't say enough about how good of a job she has done this week and just in life in general," he said. "She doesn't know that much about golf but she knows me really well and she knows when I'm going a little quicker than I usually do or getting a bit tight. Coming up the last fairway with her next to me was just incredible."
Paisley also said that where he and his caddy would discuss each shot between them, having his wife on the bag made this process much simpler. His wife did not know what shot or club he should take. But she did know when her husband was getting uptight and could keep him calm with a few choice words.
Golf's mental game is a challenge to us all. This is what I learned from Chris Paisley, who has continued to play well after winning.
Keep things simple and keep an eye on your attitude as you play golf.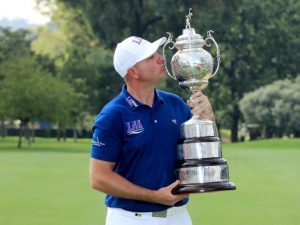 Graeme Storm won the same event, The S. A. Open back in 2017.
It was his first European Tour victory since the 2007 French Open. The 38-year-old initially missed out on his 2017 card by €100 but was handed a lifeline after Patrick Reed missed the Final Series.
Storm said he was determined to make the most of his reprieve and decided that instead of making a long list of goals for the season, as he had done in previous years, he wanted to set a goal to enjoy each event as much as possible.
He really didn't know how much longer he would be playing on the main tour and he knew that if he started to enjoy himself more that his game would improve.
That is what I learned from Graeme Storm. Enjoying yourself is a vital part in performing well and is often overlooked when it comes to goal setting.
Golf psychology plays such a big part in our own game, so what can you learn from these three winners that will help you to play your best golf when it matters?
To develop your mental strength and play your best golf when it matters, invest in some coaching with me,  either face to face or over the telephone.
See you on the tee,
Jon Adler