Rory's lost but Bones helps JT
It was a great end to the PGA Championship last weekend. Pressure told on all of the players with late mistakes costing many of the contenders.
It really isn't easy to win something that means so much to you. Whatever level you are at, winning is tough.
Let's face it, golf is a really tough game.
You only have to be a fraction off to shoot high scores. You can hit a good shot and get a bad break. Ultimately it's how you deal with your mistakes that defines how the rest of your round plays out.
Get angry at yourself and you allow for emotions to start running your game. 
By that I mean allowing the score to determine your attitude. 
Like pushing for the win and getting excited when the game goes your way. Then getting angry again when things don't.
Rory started so well on the last day picking up 4 birdies in his first five holes. Then things stalled and you could sense his frustration, finishing with a closing round 68.
You have to feel for him as we all know how elusive the game of golf can be.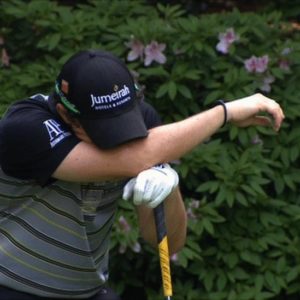 Justin Thomas kept plugging away and eventually won in a play off despite not playing that well early on in his round. He kept his head.
The night before, he had headed to the practice ground after shooting a disappointing third round 74, in search of answers about his swing.
It wasn't his father Mike Thomas, also his swing coach, that helped JT. Instead Thomas credited  his caddie Bones Mackay. Bones reminded him that golf was a tough game and that this was a major championship. "You don't have to be perfect" he told Justin Thomas.
If you get angry at yourself on the golf course and you are hard on yourself when you make mistakes ask yourself, what good does it do you?
Honestly are you ever trying to make a mistake? Of course not. Aren't you always doing your best in the moment to hit a good shot? Should that be punished?
Instead of criticising yourself try being kind to yourself. Set this as an intention for your round and see what a difference it can make. Ask Justin Thomas.
Remember, perfectionism in golf can get cause you to get in your own way.