Rory Macilroy at The Masters
It was a shame to see Rory Mcilroy suffer at the hands of the game of golf on the final day of The 2011 Masters. His game deserted him and in his interview afterwards he was at a loss to explain what had happened.
His ability is beyond doubt but without a calm and focused mind he was unable to access that ability when he wanted to.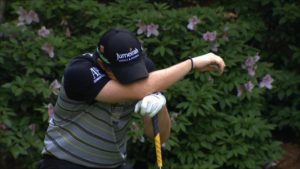 His craving for success and ultimately his aversion to making mistakes, caused him to lose the balance of his mind and with it his ability to concentrate. When this happens your performance drops off dramatically.It is the same for all of us. I hope he learns from this experience and develops the ability to keep a calm equanamous mind in the heat of battle.
Footnote :
It's now 2020, nine years since I wrote this article and Rory has gone on to develop a much more robust mentality and a more philosophical outlook on life and golf. I had no idea at the time I wrote the first article that mindfulness would become a part of his life.He has acknowledged that taking a more balanced approach to his career and developing a more mindful way of playing has helped him to get back to World No.1. He last won a Major in 2014 and I believe another Major is not too far away. Only time will tell.
What if you adopted a similar approach? Get in touch to find out how to get started.